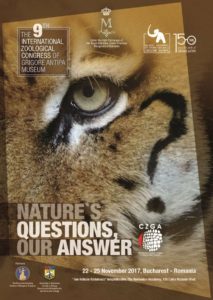 Publicatii:
Rozylowicz L., Bodescu, F.P., Ciocanea C.M., Gavrilidis A.A., Manolache S., Matache M.L., Miu I.V., Moale C., Nita A, Popescu V.D., (2018) Empirical analysis and modelling of Argos Doppler location errors in Romania. bioRxiv 397364; doi:10.1101/397364
Rozylowicz, L., Bodescu, F. P., Gavrilidis, A. A., Miu, I. V., Moale, C., Manolache, S., Nita, A., Matache, M. L., Ciocanea, C. M. (2018). Tehnici de monitorizare a deplasărilor animalelor sălbatice. Manual. Bucuresti: Universitatea din Bucuresti. Centrul de Cercetare a Mediului și Efectuare a Studiilor de Impact. Zenodo. Biodiversity Literature Repository, doi:10.5281/zenodo.1344840
Pop I.M., Bereczky L., Chiriac S., Iosif R., Nita A., Popescu V.D., Rozylowicz L. (2018) Movement ecology of brown bears (Ursus arctos) in the Romanian Eastern Carpathians, Nature Conservation 26: 15-31, doi: 10.3897/natureconservation.26.22955.
Rezultatele proiectului 72PED  – Aplicatii ARGOS pentru monitorizarea in timp real a animalelor salbatice in Romania au fost prezentate in cadrul conferintelor nationale si internationale:
Cristiana Pioarca-Ciocanea, Florian Bodescu, Steluța Manolache, Athanasios Gavrilidis, Iulia Miu, Marius Matache, Cristian Moale, Andreea Nita – Monitoring Wildlife in Romania. Empirical Evaluation of Argos Location Errors in Romania, 4th Annual International Conference on Geography, 4-7 June 2018, The Athens Institute for Education and Research (ATINER), Greece: Athens.
Andreea Nita – Modeling Argos based locations using network analysis. short talk at the workshop Complex networks: theory, methods, and applications, 14-18 May 2018, Fondazione Alessandro Volta, Italy: Como.
Florian Bodescu, Steluța Manolache, Athanasios Gavrilidis, Iulia Miu, Marius Matache, Cristiana Pioarcă-Ciocănea, Cristian Moale, Andreea Niță – Argos based applications for real time wildlife monitoring in Romania (BioMoveFix)